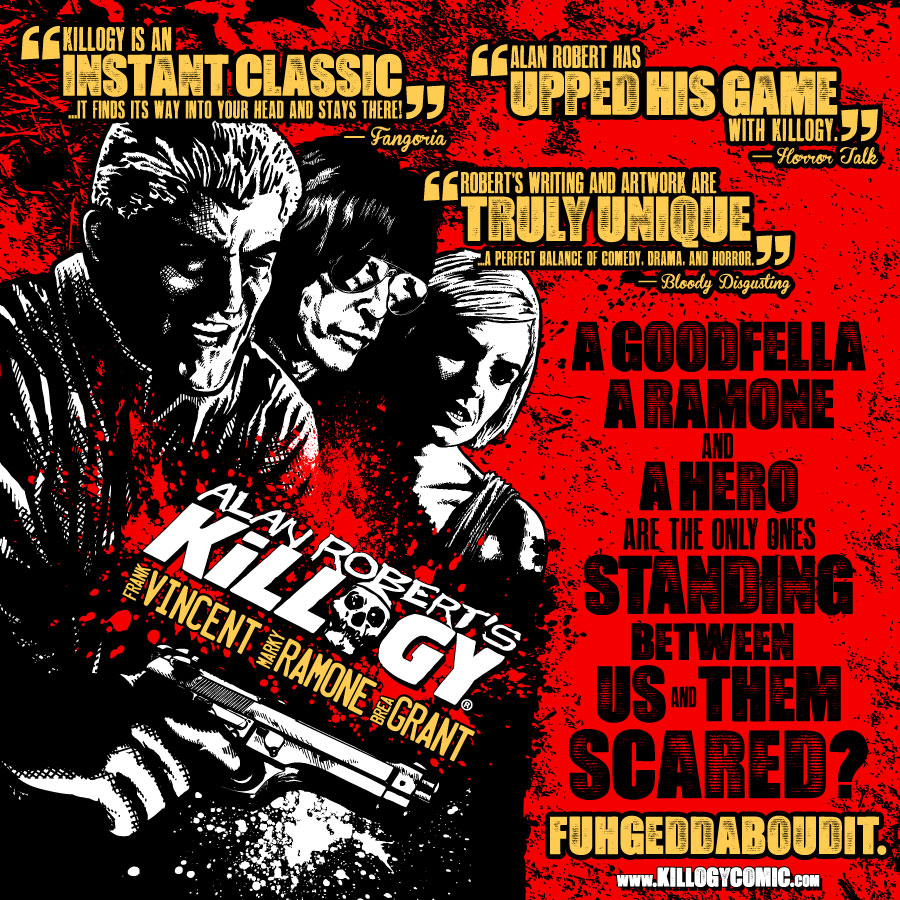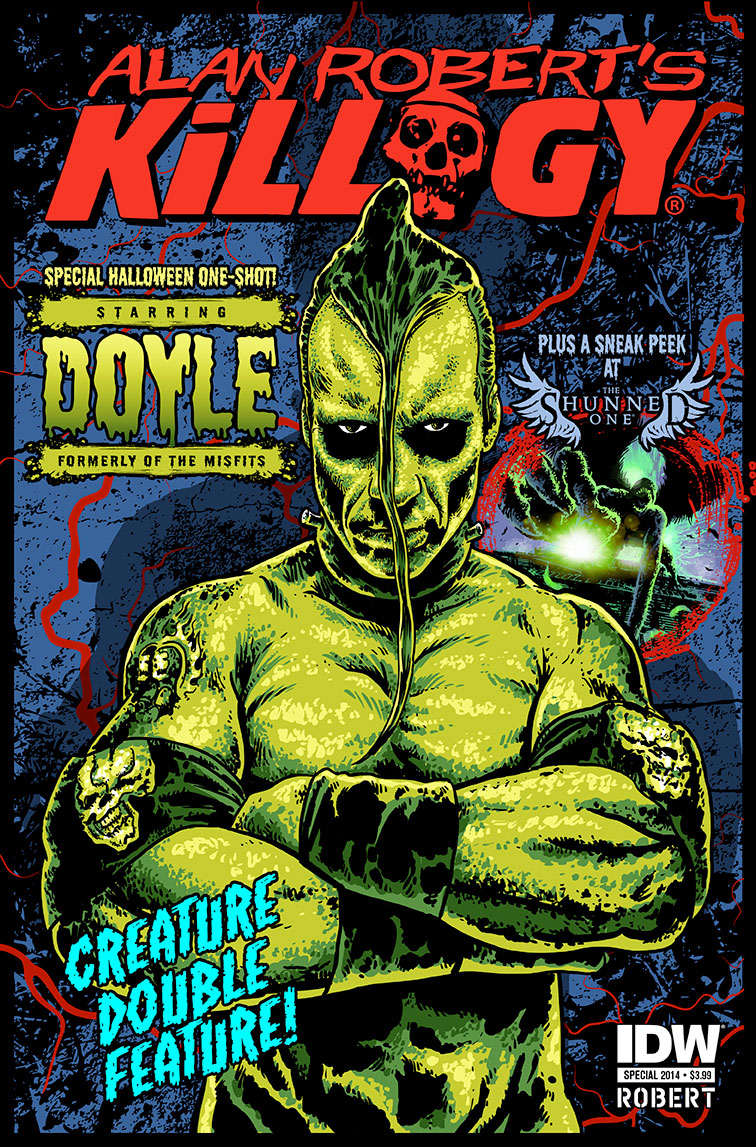 Visit killogycomic.com for details!

WINNER: 2014 Horror Comic Award: BEST ONE SHOT, -ComicMonsters.com
#2 BEST BAD-ASS COMICS of 2014, -Bloody Disgusting
WINNER: 2013 Horror Comic Award, -ComicMonsters.com
NOMINATED for BEST MINI-SERIES of 2013, - Ghastly Awards
VOTED #4: TOP 5 BEST COMICS of 2013, -BLOODY DISGUSTING
---------------------------------------
"Killogy is an INSTANT CLASSIC... it finds its way into your head and stays there!" —Fangoria
"Robert's writing and artwork are TRULY UNIQUE... a perfect balance of comedy, drama, and horror." —Bloody Disgusting
"KILLOGY is a unique concept and a unique execution; a horror experience like few others out there in comics today." —Ain't it Cool News
On October 8th, 2014, IDW Publishing released Alan Robert's
KILLOGY Halloween Special
. The one-shot issue featuring
Doyle Wolfgang Von Frankenstein
of the 
Misfits
SOLD OUT within one-week of distribution. A second printing is due in stores December, 2014. The book received rave reviews...
"Goddamn Magnificent!" —Comic Bastards
"Blood, gore and badassery! 4.5 out of 5!" —
Horror Talk
"9 out of 10! Robert has truly outdone himself! —
ComicMonsters.com
---------------------------------------

Frank Vincent, famous for his various roles in Goodfellas, Raging Bull, Casino and The Sopranos stars as Sally Sno-Cones alongside Rock and Roll Hall of Fame inductee Marky Ramone and actress Brea Grant, popular for her roles on NBC's Heroes and Showtime's Dexter.

Premise...
Three strangers, all accused of murder, sit impatiently inside a dingy police holding cell waiting to be arraigned. One by one, the characters recount the events which led to their unforseen arrests and, to their surprise, their stories are mysteriously intertwined. Each of the self-contained issues are told in stand-alone format, easy for new readers to jump in. The ironic twist endings will feel reminiscent of those found in The Twilight Zone.